Entrepreneurial Vision
As Europe's leading IoT & blockchain company builder, we morph revolutionary ideas into impactful ventures through our customized design process. Fueled by ambition and vision, we emphasize fast iteration and customer insight.

We individually nurture and advance IoT entrepreneurs with our expertise in technology and markets while encouraging autonomy. In joining NBT, you'll be empowered by our extensive business and tech community.

Develop the next big thing with us: learn in parallel with fellow entrepreneurs, benefit from diverse business models and expert mentorship to shape your solution faster.
Apply as an entrepreneur!
Accelerated Entrepreneurship
Months
Be agile. NBT Venture Design enables you to focus on your business case and customers. Powered by a technical team, you'll create and test MVPs to validate ideas at exceptional speed.
Founders
Be supported. NBT helps you find a second co-founder. We provide constructive input along the way. Expect personalized advice, sound financing, strategic product and technical contributions.
Venture
Be visionary. Combine expertise from NBT and our industry partners to sharpen your technology, product, and market intuition – transforming and scaling your IoT service into an independent venture.
OUR PROGRAM
Our entrepreneur in residence program facilitates blockchain and IoT entrepreneurship for the European market. Find your fit in our 3-month Entrepreneur in Residence program to validate a business case and launch a new venture. In our Berlin office, we'll support you with a moderate monthly salary while you focus on the project and receive mentorship from the senior NBT team.

Before the program, you have up to 6 weeks of our help to define your project. Acceptance to the program is based on NBT board approval. We focus on service-based business models enabled by IoT, and highly scalable opportunities at the intersection of IoT and Blockchain.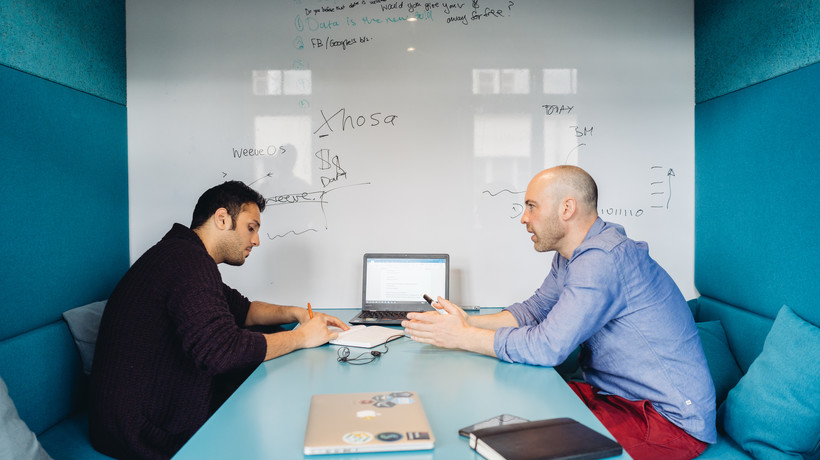 Program Advantages
Approach
Benefit from our established Venture Design Process. With our methodology, you receive mentorship and avoid re-inventing the wheel.
Technology
Develop your IoT or blockchain venture with the backing of our experienced NBT engineering team for quick and maximum effect.
Facilities
Access all the infrastructure you need: spacious office, IoT prototyping facilities, and administrative support.
Support
Focus on your venture, your business case, and your customers. Utilize NBT for design, marketing, legal questions – all the way to business coaching and more.
Investment
As serial founders and investors ourselves, you benefit from "smart money" from the start. We provide starting capital, seed funding, and help in raising Series A.
Network
Access our network and ecosystem from day one to accelerate your venture, whether for piloting, co-development, or partnerships.
FAQ
I don't have a fully-formed idea. Will you help me to find a starting point?
+
We expect you to arrive with passion and interest in a general topic. We help blockchain or IoT entrepreneurs and venture developers prioritize industry-related challenges and channel interests into defined use cases and ideas. You still have full autonomy to shape your business.
Can I spend some time in your offices to get a feel for the space and people?
+
Yes, of course. Potential entrepreneurs are invited to spend time at the NBT office – to test the culture for a good fit. We believe a great match happens bilaterally. We strive to get to know you better and give you time to make the right decision.
I already have a partner for my idea. Can you support multiple entrepreneurs and teams?
+
Yes. In general, we analyze what kind of skills and commitment each team member brings to the table. We advise you based on each individual case. If you already run a mature startup, we might rather welcome you to our extensive IoT ecosystem instead.
When will the company be founded?
+
The new company will be founded when the business case is proven. As a founder, this means you have to determine the market size, build a business case, and find the right industry partner.
What happens if the business case does not prove valid?
+
As Entrepreneur in Residence, you can switch to another case or move on. Bear in mind that given the right fit, our aim is to keep great people with us and continue working with them over a long period of time.